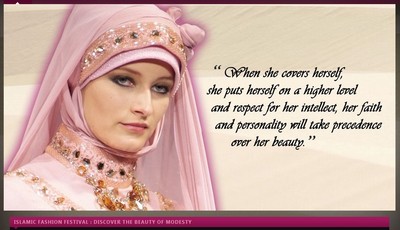 According to Islamic issues watchdog and peerless scholar Daniel Pipes, an Islamic Fashion Festival, featuring not so much as an ankle on display, is on its way to Italy's center of haute couture, Milan, as well to London.  Incredulous readers can see for themselves:
Starting in 2006, the Malaysian-based Islamic Fashion Festival carries the slogan "Discover the Beauty of Modesty" and aims to "take an innovative spin on the conventional fashion exhibition to boldly present Islamic culture and attire on an international platform," It offers such features as "Hijab Fashion" and "Abaya Fashion." The IFF has staged events in Kuala Lumpur, Abu Dhabi, Astana, Dubai, Jakarta, Monte Carlo, New York, Singapore and Bandung. Next month, the show will be brought to London.

Comes a news item from the Malaysian National News Agency that the IFF is now 'preparing its fashion designers to show off its creations at one of world's most prestigious fashion modelling catwalk. IFF, under the patronage of Malaysia's First Lady, Datin Seri Rosmah Mansor, has been invited to participate in the Milan Fashion Week.' The rest of the article details the excitement and planning for this debut on the world stage.

"I mark this and plan to follow the IFF's career in Milan: Will hijabs and abayas take the fashion world by storm? Does this new form of da'wa succeed and the Islamification of the West continue? "
Personally, I'm not following suit.  At least for the summer, I'm sticking with my bikini,
http://www.youtube.com/watch?v=SuLa-tt9S7c
a small (very small) expression of Western freedom.   OK, I don't actually own a bikini.  Mine is a theoretical bikini, but I fully endorse your right to don one, if by doing so you add to the beautification of America and the world.