This seems to be the year of Olivia Wilde.  The House actress will appear in as many as five films in 2011, including the aspiring blockbuster Cowboys & Aliens, due out July 29.
I first noticed Wilde in 2006's underrated crime drama Alpha Dog.  She is not only talented and beautiful but radiates a kind of intelligence you don't often see onscreen.  She comes by this intelligence naturally.  Though she borrowed her screen name from Oscar Wilde, she was born Olivia Jane Cockburn and comes from a family of famous left wing, not to say Communist, writers that includes Claud Cockburn and Alexander Cockburn.
The family also included Wilde's late aunt, the Englishwoman Sarah Caudwell, who was one of my dearest friends.  Sarah was a crime writing colleague.  She produced a truly superior example of so-called "cozy" mystery writing with her first book Thus Was Adonis Murdered and wrestled through terrible writer's block to produce three more fine books in that series before her death in 2000 at the age of 61.  She gave me one of my first blurbs when I became a crime writer, and when I moved to England in the early nineties, we became close.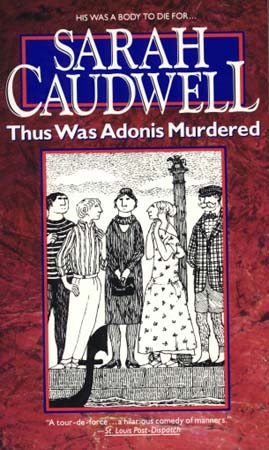 Sarah was an eccentric of the first water.  She smoked a pipe, wore a cape, peered at the world through glasses as thick as Coke bottles and was so absent-minded she once attended a party in her honor with her dress on inside-out.  She had the barking, gravelly voice of a British army officer, which rendered her speech virtually incomprehensible.  I would pick up the phone and hear an explosive, "Drew!" and then a series of gruff, slurred bursts of noise that I would have to assume—usually correctly—was an invitation to drink away an afternoon at one of the tonier London clubs.
Her eccentricities so delighted me, I used many of them in creating the character of the ghost hunter Harper Albright in my novel The Uncanny.
"I'm making you a character in my new book," I told her.
"I'll sue!" she cried.
"But I'm making you the symbol of everything good in the world," I said.
"I'll sue!" she cried.
I have a million memories of my lost friend but the one that comes to the forefront is this.  Sarah, whose born name was Cockburn, was the daughter of Communist writer Claud Cockburn and Jean Ross, the woman who served as the inspiration for Sally Bowles—the entertainer immortalized by Liza Minelli in the musical Cabaret.  Because her late mother didn't like the portrayal of Bowles, Sarah could never bring herself to see the musical, but when it was revived at London's Donmar Warehouse, she decided it was time to go.  She couldn't bear to face it alone, she said, so she asked my wife and me to accompany her.
The play was put on as if in a cabaret, and we sat at one of the tables on stage.   Whenever I glanced at Sarah during the performance, she was weeping quietly.  Afterward, she buttonholed the star, Jane Horrocks, and enthusiastically regaled her with memories of her mother.  Horrocks was exceptionally patient and kind with my loquacious and often incomprehensible friend.
Sarah drank hard and smoked incessantly, and as I was preparing to move back home, she contracted cancer of the esophagus.  I would visit her in the hospital where, so help me, she would light a pipe and offer me a drink from her well-stocked bar.  "One is told one shouldn't, but one must!" she said.  After I came back to the States, I would call and talk to her on the phone for as long as her voice held out.
Lefty that she was, I doubt she believed she'd be enjoying her niece's success from a better place than this.  But given her boundless kindness and generosity–and God's equally boundless sense of humor–I'm absolutely certain that she is.