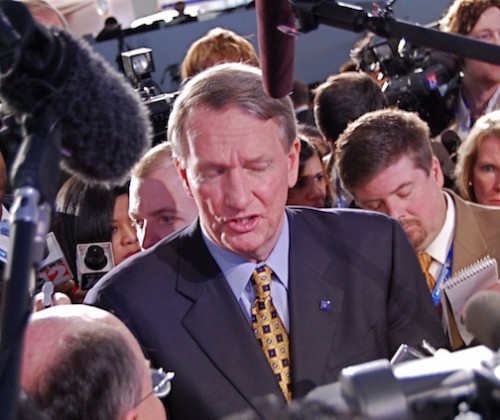 Fired GM CEO Rick Wagoner. Photo credit: Marty Densch

With January approaching that means the big North American International Auto Show is just around the bend. The domestic auto industry has gone through wrenching (no pun intended) changes over the past three years. Preparing for the big Detroit show, Marty Densch did a couple of posts at Cars In Depth looking back at the auto executives that have lost their jobs and those who have been left standing.
For the past 3 years there have been large delegations of politicians from Washington at the big Detroit auto show. With 2012 being an election year, I expect that the NAIAS media preview will again be visited by a lot of pols, particularly Democrats eager to take credit for the turnaround at GM and Chrysler. I could be wrong but my impression is that there's been a lot more turnover in the ranks of those in Detroit who ran the domestic auto industry into the ground than in the ranks of those in Washington who ran the domestic economy into the ground.
GM CEO Rick Wagoner got fired by Barack Obama and his replacement, Ed Whitacre, stepped aside after a short stint as a caretaker. Bob Nardelli and Jim Press are gone from Chrysler. Wagoner, Nardelli and Whitacre will most likely not show their faces at the NAIAS this year. Jim Press may be there, but he's taken a low profile since being hired last year as a consultant to Nissan. In his list of those who have fallen, Marty Densch also included a couple of politicians, Nancy Pelosi, who lost her job as US House Speaker after the Nov. 2010 congressional elections and former Michigan Gov. Jennifer Granholm, who was term limited. Though the executives disgraced in the implosion of the domestic auto industry have the decency to stay outside of the limelight, politicians will continue to flock to journalists' camcorder lights at the NAIAS like moths to a flame.
Former Speaker Nancy Pelosi and congressional delegation to the 2011 NAIAS in Detroit. Photo credit: Autoblog Green

Pelosi and Steny Hoyer spent tens of thousands of dollars heading a congressional delegation to the 2011 NAIAS two months after the Democrats lost power in the House. Now that GM is profitable, I won't be surprised to see her at the 2012 show. Since leaving office, Granholm took a job working for Al Gore's Current TV cable network. She hasn't been shy about taking credit for the bailout of GM and Chrysler and for all the hard to account for green jobs in Michigan she claims that her administration created or incubated, so I expect Granholm as well to be at the '12 NAIAS, ostensibly to cover the show for her tv network, but primarily to crow about GM's current profitability and Chrysler's survival.
For more on cars and car culture, please visit Cars In Depth.