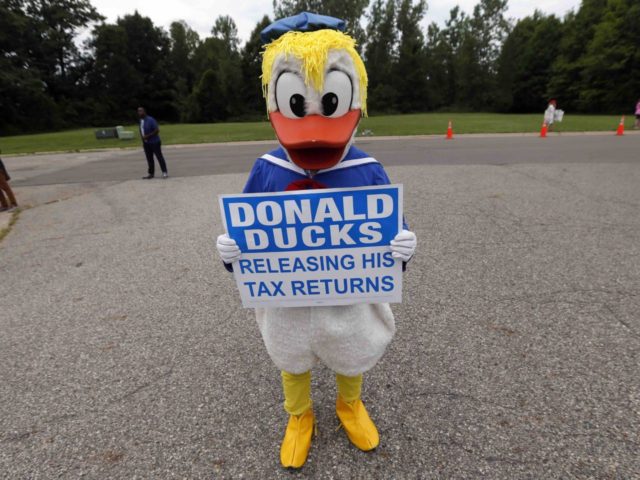 A tragic story today out of Anaheim: Donald Duck is dead. The much-beloved Disney character was found in a Motel 6 this morning. Law Enforcement officials say he committed suicide by shooting himself four times in the back of the head… from across the room…
The Duck had recently been implicated in a political scandal after a Project Veritas video was released showing Hillary Clinton operatives conspiring to disrupt Donald Trump events by sending Donald Duck to stand outside amidst the crowd as a symbol that Trump was "ducking" the release of his tax returns.
In a somber press conference, long time Duck friend Mickey Mouse told reporters, "Donald spoke to me about the scandal, and I should've known he was depressed, but I couldn't understand what he was saying because of that stupid duck voice of his. He did tell me he was deeply ashamed of being involved in Clinton's political dirty tricks and had only agreed to do it to pay off a gambling debt. At least I think that's what he said. Mostly it just sounded like quack-quack-quack-quack-quack."
FBI Director James Comey, who led the investigation into Donald's death, said he saw no evidence of criminality. "We have made a very thorough investigation, using the same team who investigated Hillary Clinton's email scandal," he remarked. "We've concluded that Mr. Duck committed suicide after receiving a visit in his motel room from construction contractor Vinny "the Trigger" Sabatoni. Mr. Sabatoni, however, had an alibi: he proved he was doing contracting work for Virginia Governor Terry McCauliffe by producing a ten thousand dollar check which McCauliffe had personally signed."
According to a recent story in the Wall Street Journal, Governor McCauliffe, a long-time Clinton ally, had recently engineered a massive contribution to the state senate campaign of the wife of FBI deputy director Andrew McCabe. This did not affect the investigation, however, as Mr. McCabe says he has fully investigated himself and found himself innocent of any wrongdoing.
Mr. Duck's tearful widow Daisy asked the press to respect her privacy, but sources close to the case said that the bereaved Mrs. Duck was convinced that her husband had become depressed and committed suicide or if she wasn't convinced she would be, or if she wouldn't be, she might become depressed herself, then who could tell what would happen to her, not to mention her nephews Huey, Dewey and Louie, whose place of residence is known to the Clinton Campaign which had nothing to do with this incident.
Police say a suicide note was left at the scene, in which Donald Duck bequeathed his sailor suit to the United States Navy, to be worn by any tiny sailor who didn't mind going naked from the waist down. Mr. Duck further instructed that his body should be placed on a wood fire, then served with a light orange glaze on a bed of Spanish rice.
For more commentary, listen to my podcast here.