January 24, 2012 - 2:01 am
"Scarlet Street' has so many beautifully subtle touches in it that it really has to be seen several times in order to be fully appreciated: the parallel between Kitty and Chris's flower (his 'problems with perspective'); the expression that flashes over Kitty's face when Chris 'confesses' that he's a married man; the brief reference at the beginning to Chris's superstition, which will eventually bring about his psychological downfall. Like many Lang films, it deals with the concept of criminal justice, and is a clever, cruel and fascinating film — a little dated technically, but far ahead of its time, and one of the greatest and blackest film noirs from the forties. The climax is still one of the most chilling in film history — more frightening than most of the great horror films."
In my latest edition of "Movies for Grown Ups," I'm introducing you to another film without robots, car chases or "cool" special effects.
Scarlet Street is a film noir, but not one of those detective centered ones like The Maltese Falcon or Kiss Me Deadly.
Because it was directed by a refugee from Hitler's Germany – Fritz Lang – this movie features the kinky backstreet misanthropy – a kind of doomed, sadistic stoicism — that's standard issue with Teutonic filmmakers. Think of Billy Wilder's dingy, (un)romantic comedy The Apartment or von Sternberg's grotty The Blue Angel.
Those two movies deal with erotic obsession — never thought of Jack Lemmon as a stalker before, had you? — and so does Scarlet Street. Yet it is so much more.
Here's the plot:
Chris Cross (played by Edward G. Robinson) is an aging, lowly clerk whose miserable marriage and tedious job are only made bearable by his hobby. He's a painter whose expressionistic canvases are painted in the bathroom — when his shrewish wife permits it. (Note: the video below was ripped from a public domain copy of the film. Keep reading to find out how to view a superior print.)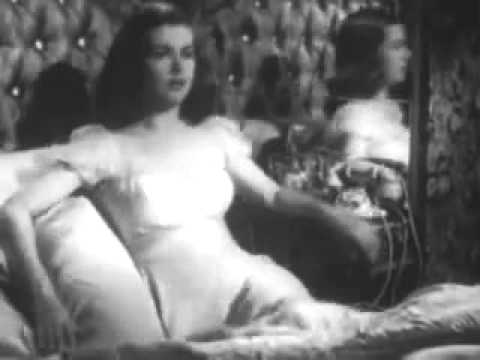 Mostly he's shown wearing an apron and cleaning up the apartment, while she nags him in the background.
One evening, fate brings Cross into the path of a lazy, slovenly "actress" named Kitty (who's really a prostitute, but the Hays Code forbade Lang from spelling that out.) To his own amazement, the timid clerk rescues Kitty (played by Joan Bennett) from a brutal attacker. She repays the favor by pretending to befriend him.
"Pretending" because Cross doesn't know that Kitty's attacker was really her boyfriend/pimp Johnny. (Actor Dan Duryea specialized in skinny, snake-like wife-beaters on the make; he'll remind modern viewers of an unsavory mutation of Richard Widmark and William H. Macy.)
Flattered by her attention, Cross lets Kitty mistake him for a famous artist – a fib that inspires the vulgar pair to take the old guy for all he's worth.
Kitty talks Cross into renting a studio apartment in Greenwich Village so he can paint in peace (in fact, she just wants a fancy new place to live.) He duly sets up an easel, and moves his finished canvases out of his own home before his wife makes good on her cruel threat to throw them away.
A series of twists and misunderstandings leads a renowned art critic to mistake Kitty as the artist responsible for these unusual paintings. She can't very well deny it, and Johnny won't let her, now that "her" paintings are commanding high prices in upper crust galleries.
When Cross finds out what's happened…
I'll leave it there.
It pains me to do so, because Scarlet Street's intricately plotted, edge-of-your-seat twists are among its greatest achievements, and I'd get a little frisson of excitement retelling them to you right now. However, it wouldn't be fair.
Let's just say that "following your dreams" can sometimes become a nightmare, especially when three people decide to blithely believe what they want to believe, with tragic consequences.