[NOTE: Follow me on Twitter for the very latest on Isaac. Also, live tidal data here.]
* * * * *
Exhausted from several short nights tracking Hurricane Isaac, I inadvertently dozed off on the couch just as I was about to publish a concerned update that was going to begin by referening this computer model animation, which shows Isaac drifting aimlessly west for about 12-18 hours, then dipping south, further back into the Gulf (but still close enough to dump additional rain on Louisiana), before at last making a final landfall in 30-36 hours and then recurving north and away. Such a scenario would likely be a disaster for New Orleans and environs, producing even more rain than the 12-20″ that is currently being forecast and allowing Isaac to maintain its strength or even intensity a bit as its center remains over the Gulf.
Thankfully, four hours later, that scenario has already been overtaking by events. Isaac has made its second landfall, west of Port Fourchon, LA, and is now meandering northwest. The eye is set to pass just west of New Orleans over the next several hours, bringing the heaviest wind and rain over the city.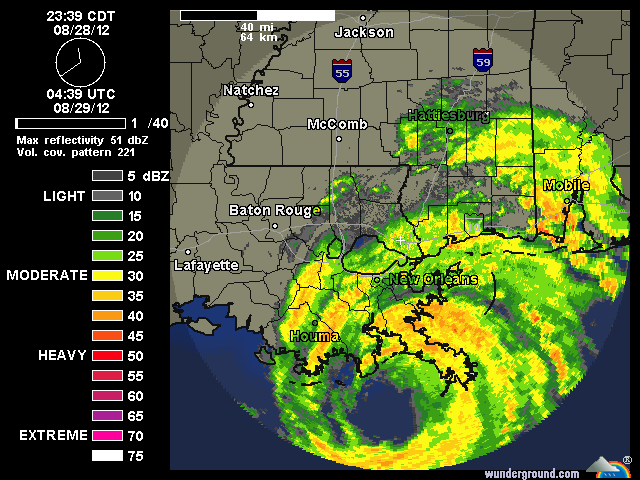 The steering currents remain weak, and Isaac may continue to meander a bit. Certainly it will continue to move slowly, dumping copious rains and lashing the area with heavy winds. Even though it's now solidly inland, Isaac may not immediately weaken tremendously, because it's basically sitting over a swamp, and still sucking in moisture from the Gulf. Flat, moist "land" like the bayous aren't particularly disruptive to a hurricane's circulation. So weakening is not expected to begin in earnest just yet. And regardless, the rains will continue.
NOLA's new and improved pumps are supposed to be able to handle 0.5″ per half-hour, but at some point, the massive, 20″+ amounts of rain being forecast have to become a problem. I'm even less an expert on this than I am on the hurricanes themselves, but I am a bit concerned, while hoping for the best. Cross your fingers that NOLA will come through this okay.
Anyway, from what I've read, the biggest problem in Louisiana right now is that an 18-mile stretch of levee in Plaquemines Parish has been over-topped. New evacuations are underway, mid-storm apparently. That sounds like a dangerous situation for sure.
On the bright side, the storm surge in Shell Beach, Louisiana has apparently peaked at 11 feet, and is now dropping:
The water level is still rising in and near Lake Pontchartrain, though. (See also here.)
Again, to track the storm live via satellite, radar and water gauges, click here.
Also, for the very latest, follow me on Twitter.