Hurricane Omar strengthened to a Category 3 storm tonight as it swiped St. Croix, the southernmost of the Virgin Islands, and moved toward the Anegada Passage in between the Virgin Islands and the northern Antilles islands of Anguilla and Saint Maarten.
Here's the 11:46 PM EDT radar view from San Juan: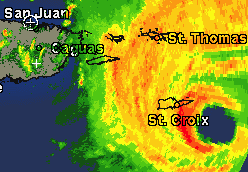 Here's a wider radar loop.
Omar's winds are currently estimated at 115 mph, and that "COULD BE CONSERVATIVE," according to the National Hurricane Center's 11:00 PM EDT discussion. Further strengthening is possible overnight.
The big question mark is Omar's exact track. The current official forecast predicts that the storm will "thread the needle," as Alan Sullivan put it hopefully earlier today, between the Virgin Islands and the northern Antilles. This is helpfully shown by the guiWeather Google Map layer: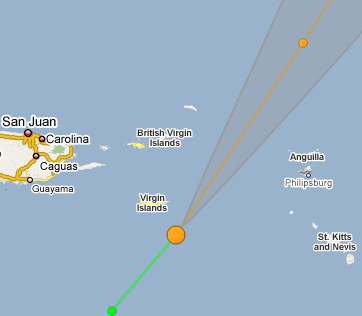 However, as the NHC discussion notes, "THE MODEL GUIDANCE KEEPS FORECASTING A 15-20 DEGREE LEFT TURN THAT SO FAR HAS NOT OCCURRED." If that turn doesn't occur, or is delayed further, Anguilla and/or St. Maarten could take a direct hit from Omar's eyewall. Sullivan is worried, writing at 11:53 PM EDT: "St. Maarten needs a northward, leftward wobble soon, or the worst part of the storm, the southern eyewall, may hit the island when the storm is peaking in strength."
Here's a look at Omar's path so far, along with its wind field (tropical storm force winds in orange, hurricane force in maroon) and its accompanying watches and warnings (red for hurricane warnings, pink for hurricane watches, blue for tropical storm warnings, yellow for tropical storm watches):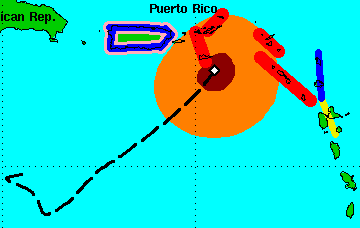 StormCarib has coverage.