This morning, the National Hurricane Center designated a small disturbance in the Bay of Campeche as Tropical Depression Thirteen, and at 5pm EDT, the depression was upgraded to Tropical Storm Marco. The storm is expected to hit Mexico around midday tomorrow.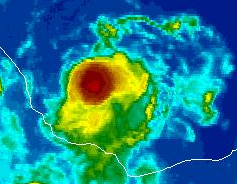 Did I call Marco "small"? I meant tiny. The NHC's 11:00 PM EDT discussion says Marco "could be the smallest tropical cyclone on record." Here is its wind field: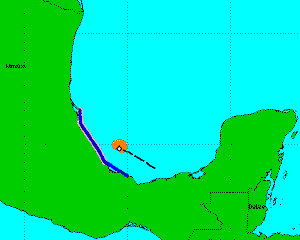 And take a look at the wider satellite view: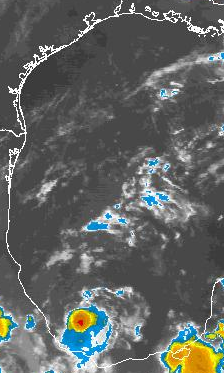 Dr. Jeff Masters wrote at 5:41 PM EDT:
Surprising Tropical Storm Marco has burst onto the scene in the extreme southern portion of the Gulf of Mexico. In just five hours, the tiny storm has spun up to near hurricane strength, a remarkable rapid intensification feat. Visible satellite loops show a tiny storm with a concentrated area of heavy thunderstorms, moving west-northwest at about 10 mph. In another example of why we need the Hurricane Hunters, an Air Force airplane that scrambled to fly Marco with little advance notice found top winds of 65 mph and a 998 mb pressure at 4:19 pm EDT. Satellite estimates using the traditional Dvorak Technique were still classifying Marco as a tropical depression with 35 mph winds this afternoon.
Here's what the 5pm NHC discussion said about Marco:
A TIMELY MISSION FROM THE AIR FORCE RESERVE HURRICANE HUNTERS…TASKED WITH LITTLE ADVANCE NOTICE…REVEALS THAT THE DEPRESSION OVER THE EXTREME SOUTHWESTERN GULF OF MEXICO HAS INTENSIFIED INTO A TROPICAL STORM.  PEAK SFMR WINDS WERE [61 MPH] AND PEAK FLIGHT-LEVEL WINDS WERE [70 MPH].  THESE DATA SUPPORT AN INITIAL INTENSITY OF ABOUT [65 MPH].  SINCE THE OCEANIC AND ATMOSPHERIC ENVIRONMENT ARE SEEMINGLY FAVORABLE…ADDITIONAL INTENSIFICATION IS SHOWN IN LINE WITH THE LATEST SHIPS GUIDANCE.  MARCO COULD BE NEAR HURRICANE STRENGTH AS IT APPROACHES THE COAST…AND ACCORDINGLY A HURRICANE WATCH HAS BEEN ISSUED FOR A PORTION OF THE GULF COAST OF MEXICO. IT SHOULD BE NOTED THAT IF THE CURRENT INTENSIFICATION TREND CONTINUES…IT MAY BE NECESSARY TO ISSUE A HURRICANE WARNING LATER THIS EVENING. . . . WE THANK THE 53RD WEATHER RECONNAISSANCE SQUADRON FOR THEIR QUICK
RESPONSE TO OUR SHORT-NOTICE REQUEST TO INVESTIGATE THIS STORM.
And here's the 11pm discussion:
MINIATURE MARCO HAS MAINTAINED ONE SMALL COLD-TOPPED THUNDERSTORM CLUSTER…ABOUT THE SIZE OF THE STATE OF DELAWARE…OVER THE LOW-LEVEL CENTER. THEREFORE…THE INITIAL INTENSITY IS BEING KEPT AT [65 MPH] IN LINE WITH THE LAST AIR FORCE RECON DATA…EVEN THOUGH DVORAK SATELLITE CLASSIFICATIONS ARE [35 MPH] FROM BOTH TAFB AND SAB. I HAVE WORKED SOME TINY TYPHOONS IN THE WESTERN PACIFIC BEFORE…BUT HORIZONTALLY-CHALLENGED MARCO COULD BE THE SMALLEST TROPICAL CYCLONE ON RECORD. . . .

ALTHOUGH MARCO MAY BE SMALL IN STATURE…IT HAS BEEN ABLE TO MAINTAIN DEEP CONVECTION NEAR THE SMALL CIRCULATION CENTER THAT ONLY HAS A RADIUS OF MAXIMUM WINDS OF ABOUT 4 NMI. SMALL SYSTEMS LIKE MARCO CAN SPIN UP QUICKLY…BUT THEY CAN ALSO SPIN DOWN JUST AS FAST. VERTICAL SHEAR IS FORECAST TO REMAIN RELATIVELY LOW AND SSTS ARE EXPECTED TO BE ABOVE 28C UNTIL LANDFALL IN ABOUT 18 HOURS. THEREFORE…SOME SLIGHT STRENGTHENING IS POSSIBLE. THE SHIPS MODEL BRINGS MARCO UP TO HURRICANE INTENSITY IN 12 HOURS…AND UP TO [82 MPH] IN 18 HOURS…WHICH SEEMS A LITTLE TO AGGRESSIVE AT THIS STAGE. THE OFFICIAL INTENSITY FORECAST IS A BLEND OF THE STRONGER HWRF AND THE WEAKER GFDL…WHICH KEEPS MARCO JUST BELOW HURRICANE STRENGTH.
Marco may be the size of Delaware, but is it as blustery as Joe Biden?