7 Most Iconic Hairstyles from the '80s
Stiff Stuff. Aquanet. Prell. Banana clips and Goody hair combs. Perms. Crimping irons. These were a few of our favorite things in the '80s. It took A LOT of time and energy to get good hair in that decade. Looking back at photos of the era, it kind of just looks like we might have rolled out of bed and left the house without looking in the mirror. But you know you were waking up two hours before school to wash your hair with Rave or Finesse, only to fry the ever-living-hell out of it with the blow dryer and crimping iron. And then came half a can of level 5 hair spray to ensure it didn't move. I kept a travel-size bottle of Rave in my fanny pack (!!) at school in the event that my bangs lost their shape. Don't lie—you know you did too.
Shoulder pads aren't the only things that we regret from the '80s. (Hammer pants, anyone?) And while these hairstyles might have been a terrible idea in retrospect, they certainly are iconic.
1. High side ponytail
It took a high level of skill to get the sides of your head super smooth in the ponytail, only to poof out the tail end to the highest degree. Scrunchies and bows were imperative for this look, as were epic bangs.
2. Whale spout (hello scrunchy!)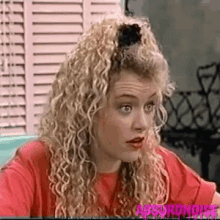 With this 'do you had quite a few options: you could spout just half of your head and leave the bottom to do its thang, or you could put all your hair into this pony and let it just rain down all around your head. Bonus if you had some spectacular bangs to finish off the look.
https://pjmedia.com/lifestyle/7-iconic-hairstyles-80s/