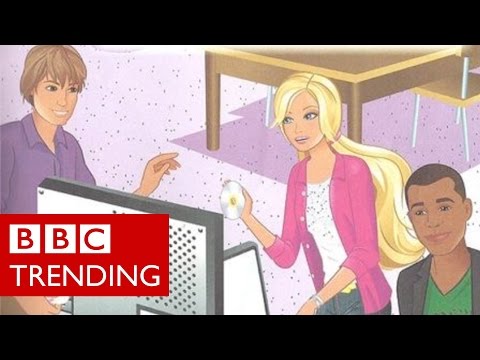 The latest cultural meme to make it big in feminist circles is Feminist Hacker Barbie:
Last week, the internet was disappointed to discover that, countary to the title, Mattel's illustrated book Barbie: I Can be a Computer Engineer sends pretty much the opposite message. Instead, Barbie says things like: "I'm only creating the design ideas. I'll need Steven's and Brian's help to turn it into a game." She infects her sister's computer with a virus and can't even restart it on her own.

Enter Feminist Hacker Barbie. Real-life computer programmer Kathleen Tuite launched a website where you can hack the original book, creating re-captioned and much improved images. Check out some more of the user-submitted images here.
As if computer guys didn't already have a hard enough time with chicks, now Barbie has to one-up their game. Is that how pathetic contemporary feminists have become, that in their absurd need to "do it all" they wind up emasculating the most de-sexualized men among us? As if The Big Bang Theory hasn't already done a good enough job, there's the incessant whining about the lack of female employees in the tech sector (because you should obviously hire based on boobs, not binary) and, of course, #GamerGate. If a guy so much as goes near a keyboard he's obviously a misogynist. If he's actually good at operating, let alone building, a computer, he's an obvious threat to the female sex. And if Barbie dares to suggest teamwork with male participants, well, she's obviously just a tool to empower the patriarchy.