Get PJ Media on your Apple
Follow
Recently, English woman Isabella Dutton admitted in writing that she regrets having her two children. She lamented,
…like parasites, both my children would continue to take from me and give nothing meaningful back in return.
Dutton, 57, was married at the age of 19 in 1975, just eight years after the 1967 decision to legalize abortion in England and three short years after the fateful Roe v. Wade decision that legalized abortion in America. Each sent Western culture down the pro-abortion rabbit hole.
This polarizing article has been shared across the globe to mixed reviews, some appreciating the writer's honesty, others criticizing her coldness toward her own offspring. Similar comparisons of children to parasites became popular and rampant in pro-abortion circles to argue the case for abortion. Found on the hideous far-left rag the Daily Kos,
Anyways, back to the whole fetus= parasite thing. That is how I see them. I don't see them as cute and cuddly. I see them as terrifying and scary. I see pregnancy the same way.

The Z/E/F sucks the nutrients from the mother.
The "relationship" only benefits the fetus.
The mother's organs and body parts become damaged.
The fetus controls the mother.
The fetus doesn't give anything "back".
The author then goes on to list more reasons a baby is the same as a parasite including specious claims that pregnancy damages the mother's internal organs.
Now we have the trial of Kermit Gosnell, the mass-murdering abortionist who kept the severed feet of his victims in bottles around his office, ignored by the national media. A doctor who murders full-term babies outside of the womb cannot garner national interest. Perhaps studies like this one by Oxford self-labeled "ethicists" don't help matters.
What we call 'after-birth abortion' (killing a newborn) should be permissible in all the cases where abortion is, including cases where the newborn is not disabled.
With public discourse lowered to such a level, is it surprising at all that a mother publicly disparages her children and it is called "honesty" or that the public is more interested in Kim Kardashian's exercise routine than in hundreds of slain infants in a dirty Philadelphia abortion mill? For all the talk of protecting the children of America by writing more gun-control laws, none of which would have stopped shooter Adam Lanza in Newtown, there is no concern for the millions of nameless children abortionists have literally thrown in the garbage. No one is proposing laws to stop abortion butchers from stabbing full-term fetuses in the neck and freezing their bodies in plastic bags. No one is even asking where Gosnell got such an idea, because the answer would be the undoing of the abortion industry. Gosnell isn't one monster in a field of saints. He simply shone a light on the ugly truth that abortion results in a dead baby and a desensitized public no matter which method is used.
Read
| 29 Comments »
Planned Parenthood certainly blusters a lot about helping women in need, but the truth is they make an awful lot of money off the grisly business of abortions. Their most recent annual report shows nearly $1 billion in assets and $997 million in revenues distributed to their local affiliates, plus another $177 million in revenues to the national office. By conservative estimates, abortions constitute 37% of Planned Parenthood's revenues. Fair enough, I suppose, but isn't it a little disturbing to think they have a business model (and a profit motive) that requires getting women onto the abortion tables with their feet in the stirrups?
With all the vitriol surrounding the abortion debate, it's sometimes easy to lose sight of the fact that every day mothers with unplanned pregnancies make life-altering decisions about their unborn babies. While politicians and activists battle over the legislative issues, compassionate counselors at non-profit pregnancy resource centers (and their donors) quietly make a monumental difference in the lives of mothers, fathers, and babies every hour of every day across the United States. They literally save the lives of babies.
It's no wonder Planned Parenthood warns women to avoid these non-profit pregnancy centers which, let's be honest, hurt their bottom line.
Here are some things you may not know — 5 Things Planned Parenthood Doesn't Want You to Know About Pregnancy Resource Centers:
Read
| 12 Comments »
I bow to no one when it comes to admiring conservative author Mark Steyn.
I've traveled miles to hear him speak and even own "Mark Steyn" t-shirts.
However, he and I disagree about arguably his most famous conviction:
That we in the West need to have more children, pronto.
The European demographic collapse Steyn warned about in America Alone and After America acts itself out every night on the news.
I might joke that the best argument against Steyn's conclusion is, well, this.
But obviously, I know Steyn's right.
However, like Al Gore with his private jet, I just don't plan to do my part to ameliorate this state of affairs.
I never have.
When I was playing with a doll, all of age four, some nice lady bent down and chirped, "I guess you'll want a real one of those of your own one day…?"
I recoiled in horror. Normally a quiet (nay, catatonic) youngster, I can still hear myself bawling, "NO!!"
I have never entertained a different answer. Not even for a moment — passionate, drunken, hormonal, or otherwise.
Why is that?
(Besides the obvious answer: Because gross!)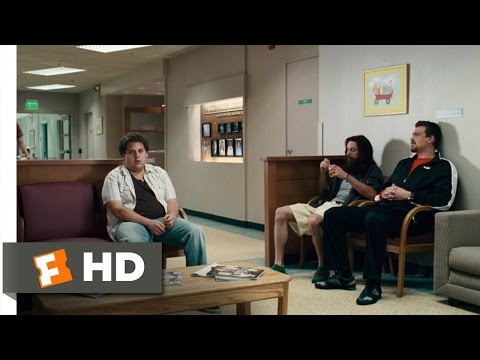 Read
| Comments »