Get PJ Media on your Apple
Follow
Over 17 years and a dozen feature films Pixar revolutionized computer animation. Today no other studio even comes close.
Pixar's films have innovated not just with their technological expertise but in the realms of characterization, plot development, and creativity. With Brave debuting last week, Disney and Pixar raised the bar even higher, reaching astonishing new heights.
Fiery-haired Merida (Kelly Macdonald) is the daughter of King Fergus (Billy Connolly) and Queen Elinor (Emma Thompson) of the DunBroch clan in 10th century Scotland. Merida loves riding through the countryside and practicing her archery. She longs to choose her own fate and bristles at her mother's attempts to school her in the ways of living like a princess. When Elinor invites the heads of the other clans to DunBroch to compete for Merida's hand in marriage, the princess rebels, leading to a heated argument.
Merida takes off into the woods, where she follows will-o'-the-wisps to a witch's cabin. She asks for a spell that will both change her fate and her mother. The result: Elinor transforms into a bear. Merida must then reverse the curse by repairing her relationship with Elinor. Along the way mother and daughter restore the bonds between the four clans and help Fergus face the legendary demon bear Mor'du, who took his leg in a battle years before.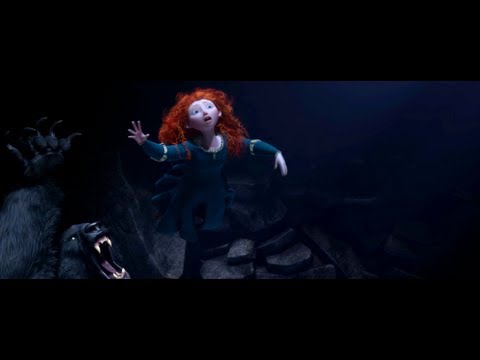 Read
| Comments »

via 'Brave's' Kelly Macdonald on Her Character Merida: 'She Makes Her Own Trouble' (Video) – The Hollywood Reporter.
Kelly Macdonald, who voices Merida, the red-headed heroine of Pixar/Disney's Brave, isn't very familiar with the Disney princesses of the past. But the one fictional leading lady she did look up to happens to have a lot of the qualities that Merida is bringing to the screen.

"As far as Disney princess go, I had watched Snow White, but I don't think I've seen any others," she tells The Hollywood Reporter. "The figure I looked up to was Calamity Jane."
Is it better for girls to aspire to be princesses or frontier women? Or can they be both? (While passing on some of Jane's shortcomings?)
Hat tip: The Mary Sue.
Read
| Comments »