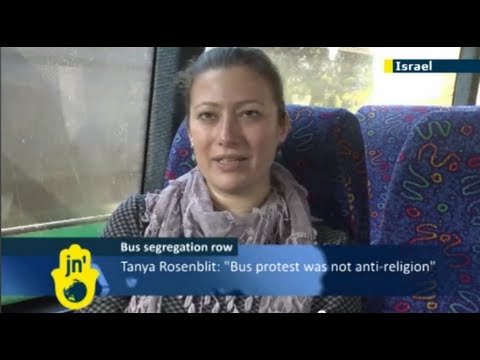 I didn't fully appreciate how spiritually free I am as an American woman until I set foot on an El Al plane.
"Do you speak Hebrew?" the fretting woman in front of me asked.
"No, not really."
"It's okay, I speak English," she hurriedly replied, obviously looking for a friendly face. "These Orthodox," she motioned to the people sitting next to her, "they don't like sitting next to women."
"Well, that's their problem." My response was pointed, matter-of-fact, American.
She smiled as if a light bulb went off in her head. "You're right!" Her expression grew cloudy. "But what if I take off my sweater? They won't like that I expose my shoulders with my tank top."
Again, I simply replied, "That's their problem."
She smiled, empowered. Removing her sweater, she took her seat and stood her ground.
And at that moment I thanked God I was raised in pluralistic America, and realized, oddly enough, that the Holy Land was giving me my first chance to practice the biblical feminism I've preached.
Israel is a Western nation in that women have equal rights by law. Israel is also a confluence of religious and ethnic cultural attitudes, not all of which are friendly to women. Two days into our trip to Jerusalem, a family member who also happens to be a retired journalist explained the latest story to hit the nightly news. A man accused of spousal abuse was released to return home. Later that evening, police found his wife had been shot dead. The husband confessed to the murder. Apparently, domestic violence and death is a relatively small but significant problem in Israel. When I asked my former journalist why, he pointed to the influence of Middle Eastern (both Arabic and radical Islamic) patriarchal culture as the primary source.
Yet, even religious Jews in Israel (and around the world), despite their insular nature, are far from immune to sexual abuse. Sex scandals among the Haredim (ultra-Orthodox) show up frequently on the evening news. In this case it's not the Arab/Muslim influence, but perverted behaviors that arise from rabbinic abuse of biblical teachings. How do you expect a man to relate to a woman sexually when he's not even allowed to look her in the eye?