Get PJ Media on your Apple
Follow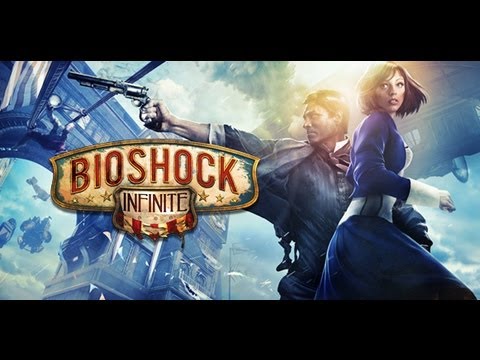 Bioshock Infinite releases next Tuesday, March 26. A highly anticipated prequel to one of the most widely acclaimed video games in history, the title stands poised to awe not only with inspiring visuals and thrilling gameplay, but with a controversial critique of American Exceptionalism.
Film critic Roger Ebert earned the ire of gamers a few years ago when he ruled declaratively that video games can never be art. Emerging from the resulting swarm of agitated youth, Ebert later relented slightly, if only to admit that he really ought to experience video games before banishing them from the realm of artistic consideration.
An intriguing debate regarding what makes a thing art is woven through both of Ebert's pieces linked above. However, the argument may be moot. It seems fair to say that when a craft begins to express complex ideas regarding the human condition, when it begins to stimulate thought and debate on matters of genuine import in the real world, when it can affect how you think about issues and what you believe about your world, it achieves the status of art.
By that standard, the video game industry has produced a bounty of artistic titles amidst a sea of thoughtless cookie-cutter fare. Of course, this makes video games no different than any creative medium. There exist far more vulgar scratches on bathroom stalls than masterpieces hung in museums, far more trashy romance novels than genuine epics, and certainly more popcorn flicks and action movies than truly inspirational films.
Like any medium, games can evoke powerful emotions and make compelling philosophical statements. The element of interactivity can heighten such moments beyond the experience of a novel, painting, or film. No longer a mere observer, what happens in a game happens to you. The world of the game and the characters which inhabit it change, live, and die according to the choices you make.
The inherent power of the medium proves all the more reason to treat it seriously as an influential artistic form. Therefore, as Bioshock Infinite makes its case against the notion of American Exceptionalism, we do well to pay attention and respond.
Read
| 10 Comments »
Obstructionist. Intransigent. Obstinate.
These words among others, used in reference to the Tea Party and fiscally conservative members of Congress, bark past teeth bared in animosity. Critics of the Tea Party lament its uncompromising stance against proposals like the recent fiscal cliff deal. Content to tolerate mere rhetoric, these critics draw the line at standing on principle when it actually counts. NPR's Alan Greenblatt places the Tea Party at a crossroads:
In the coming year, the returning [Tea Party Republican] members [in Congress] will have to decide whether they want to continue practicing a politics of purity, advocating strong and unyielding positions, or accept that governance generally requires a good deal of compromise.
Compromise sounds reasonable on its face. Absent any context, the term invites a sense of begrudging contentment. Certainly, compromise permeates our everyday lives. Every relationship we engage in requires compromises subtle and plain. It remains true that gestures of goodwill go a long way toward fostering mutually beneficial arrangements. However, that assumes both parties act in good faith. It also assumes that a given compromise serves a profitable long-term goal.
Opponents of the Tea Party have no such qualifications in mind. They advocate compromise as an end in itself. The notion springs from a fundamental reverence in our culture for sacrifice. Misinterpretation and misapplication of Judeo-Christian tenets have fostered an irrational sense of nobility for giving up something of value in exchange for a lesser value or even nothing at all. Such counter-productive sacrifice is demanded from Tea Party-backed members of Congress by folks like International Business Times commentator Joseph Lazzaro. Contemplating the immediate economic repercussions of allowing the country to fall off the fiscal cliff, and writing before the deal's passage in the House, he explains:
Now, the typical, moderate, independent American, assessing the damage that a long-term failure to reach a budget deal would cause, will no doubt reasonably argue that surely the Tea Party faction will compromise – for the good of the nation. I.E. that the Tea Party will approve the current tax/budget bill.

Unfortunately, however, if that independent American is thinking reasonably, i.e. views a compromise as a rational, prudent stance, he/she is not thinking like a Tea Party member of Congress. Pressured by their extremist supporters, Tea Party members of Congress have shown no inclination to compromise and agree to a fair deal, no matter how much damage that obstruction and intransigence causes to the credit markets and the U.S. and global economies. Obstruction, driven by an extremist conservative ideology – no matter how much financial and economic destruction it triggers – has been the Tea Party's preferred strategy, if the alternative is a compromise that leads to increased income taxes and an agreement that includes support for the liberal social safety net.
Read
| Comments »
On the night of the election, once it became clear which course the nation chose, I received an email from a fellow activist with the subject line "1776-2012," a pronouncement of death for the idea that was America. While many may dismiss such proclamations as sour grapes, reflection confirms more truth than hyperbole.
Consider: If the quintessential American idea is the one articulated in our Declaration of Independence, "that all men are created equal, that they are endowed by their Creator with certain unalienable Rights," then the developments of the past four years culminating in the re-election of the most radical executive in the nation's history is its eulogy.
The passage of Obamacare demonstrated that the Democratic Party was willing to abandon all pretense of representative government in order to secure power over individual lives. The upholding of that law by the Supreme Court demonstrated that the Constitution is effectively meaningless. Tragic as those developments were, this — the electoral affirmation of President Barack Obama — is a crowning catastrophe. It signals more than political or legal corruption. It indicates a cultural sea change whereby the People have rejected the Declaration. To survive and one day thrive, it is critical that the Tea Party accept this reality.
Instead, there is denial. PJM's Rick Moran tells us not to worry, pointing to exit polling data as evidence that this latest election is just another ebb in the normal flow of national politics. That data suggest that 53% of Americans believe government has become too activist. Never mind that these are the same voters who just doubled down on the status quo. Some local coordinators attending Tea Party Patriots' first post-election conference call imagined a conservative plurality which could make a third party viable. Never mind that the most successful third party in the country secured less than 1% of the popular vote. Others renewed their prescription to take over the Republican Party. Never mind that Tea Party-favored candidates were systematically rejected by primary voters in states from coast to coast, or that the Republican National Convention took an intentional step away from grassroots organization to ensure future conventions are neat little coronations for the presumptive nominee.
All this grasps at straws. The central presumption underpinning Tea Party resistance in the Obama era has been that a rabid majority of "We the People" is chomping at the bit to "take our country back." While there have been remarkable local successes, noteworthy down-ticket primary victories, and frequent rattlings of the establishment cage, the movement's ability to reshape the political landscape has been blunted by a grim reality. This government, essentially unchanged after November 6th, is of and by the People even as it treads upon the Individual.
Read
| Comments »