Get PJ Media on your Apple
Follow
Midfielder and former England captain David Beckham has announced that the MLS cup final on Dec. 1 will be his last match with the LA Galaxy.
The 37-year-old Beckham isn't retiring, but the superstar he gave no hint of his next move.

"I've had an incredibly special time playing for the L.A. Galaxy," Beckham said in a statement. "However, I wanted to experience one last challenge before the end of my playing career. I don't see this as the end of my relationship with the league, as my ambition is to be part of the ownership structure in the future."

Beckham has played in Los Angeles for six seasons since his groundbreaking move from Real Madrid, reaching three league finals and winning one MLS title last year during his best stateside campaign.

He agreed to a two-year contract extension with the Galaxy in January after playing out his initial five-year deal, turning down potential moves to wealthy Paris Saint-Germain and other clubs – including at least one Premiership team, according to Beckham.

Beckham hadn't given any overt indications he was planning to leave the Galaxy after this season with a year left on his deal. Last week, the longtime England captain pointedly denied rumors linking him to a short-term stint in Australia.
Beckham has been among the chief reasons to watch MLS action during his years in Los Angeles. At 37 he is not the player who dominated both the Premiere League and Spain's La Liga, but he has remained one of the most consistently threatening players in the league. He has been plagued by injuries but his vision is as sharp as ever and his precision has only barely dimished. At just about any moment and from just about any position, Beckham can lob one of his trademark overhead passes to a forward for a one-touch shot or bend a free kick or corner into the net.
The question now is, where does Beckham go from LA? Rumors have him returning to Europe, going to South America or even Australia to play in that country's A-League. One intriguing rumor has him remaining in the MLS, where he does have an interest in ownership eventually, and moving to New York to join the Red Bulls. The Red Bulls have one of the league's highest salaries but have underachieved for years. In New York, Beckham would play alongside former Arsenal and Barcelona striker Thierry Henry, who is one of the finalists for MLS MVP this year. The Red Bulls were dumped out of the playoffs this year by DC United. Beckham could be the leader and threat that the Red Bulls have needed. A team featuring Henry's guile and power and Beckham's leadership and precision would be an instant threat for the title, provided both could stay healthy for enough of the season to lead the line. Beckham and Henry played for arch rivals Manchester United and the Gunners respectively during their time in the English Premiere League. Having both on the same side in the twilight of their careers could be expected to knock ticket sales up a bit for the Red Bulls and any team they play against on the road. It would be good for Red Bulls and for MLS itself.
Beckham has enjoyed two seasons with similar talent around him in Los Angeles, playing alongside US international Landon Donovan and Irish international Robbie Keane. The Galaxy reached this year's MLS Cup final by beating Western Conference rival Seattle Sounders 3-0 in the first leg at home and losing 2-1 in the second at Seattle on Sunday. They will host the Houston Dynamo in a rematch of last season's final, which the Galaxy won 1-0.
During Beckham's years in Major League Soccer, MLS has gone from relative obscurity to become the world's seventh most watch soccer league.
Read
| Comments »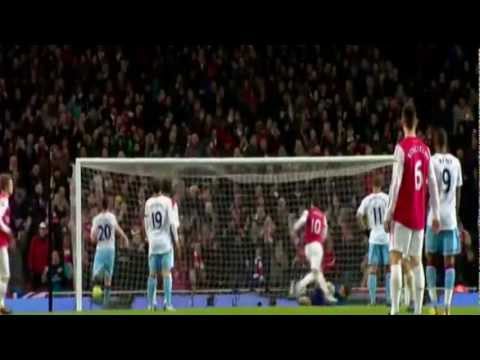 Another summer off-season has brought on another crisis for the Premiere League's Arsenal FC. In 2009 the red and white lost power talents Kolo Toure and Emmanuel Adebayor to rivals Manchester City in summer transfers. In 2011, they lost world class midfielder Cesc Fabregas to Barcelona and playmaker Samir Nasri, along with defender Gael Clichy, to Manchester City. The club has mostly replaced such lost talents with cheaper, younger players, many of whom have not stepped up to fill the lost Gunners' boots. This year, as the Gunners ruthlessly climbed the table after an awful start to the 2011 campaign, striker and captain Robin Van Persie emerged as the massive talent that the club's fans suspected he was, but which a string of injuries had prevented from full revelation. He scored when he wanted in the 2011 season, it seemed, banging in 37 goals in all competitions and netting the Premiere League's Golden Boot and both Player of the Year awards. At times Van Persie carried the Gunners on his back.
But throughout Van Persie's incredible campaign, there was a nagging doubt that he would not return for another season. He was in the penultimate year of his contract, and had put off any extension talks until the end of the season. Arsenal finished third in the table, and RVP joined his countrymen at the Euro 2012 championships, no new contract inked. On Wednesday, he declared that he would not sign an extension.
His announcement has sparked condemnation and a raging debate: Should Arsenal sell him and buy other players to replace him, or should they hold him to that final year?
Van Persie is no youngster by soccer standards; he turns 29 in August. He has been injury-plagued throughout his time at Arsenal, and was once accused of rape. That charge was false, and the club stood patiently by him during that ordeal and the many months he has spent off the pitch and on the doctor's table. One great and complete season later, though, he questions the club's ambition and says that he will not extend his contract. Here is how he framed his decision to leave in his statement to the club's fans:
I personally have had a great season but my goal has been to win trophies with the team and to bring the club back to its glory days.

Out of my huge respect for Mr Wenger, the players and the fans I don't want to go into any details, but unfortunately in this meeting it has again become clear to me that we in many aspects disagree on the way Arsenal should move forward.

I've thought long and hard about it, but I have decided not to extend my contract. You guys, the fans, have of course the right to disagree with my view and decision and I will always respect your opinions.

I love the club and the fans, no matter what happens. I have grown up and became a man during my time with Arsenal. Everybody at the club and the fans have always supported me over the years and I have always given my all (and more) on and off the pitch.
The timing is interesting: Arsenal have already bought two world-class strikers in Lukas Podolski and Olivier Giroud before the summer transfer window has even officially opened, and are said to be chasing the signatures of a new goalkeeper and one or more established midfielders including American Clint Dempsey, who is coming off his best season at Premiere League stalwart Fulham. They are also in the hunt for Belgian defender Jan Vertonghen. Podolski carried his German club last season, and Giroud led the French league in scoring on the way to his club winning the title. None of Arsenal's moves to sign them and other players show any lack of ambition. Despite his protestation that he has "huge respect" for club manager Arsene Wenger, Van Persie's statement says otherwise: The player is questioning the manager's and the board's vision for the club. His public statement caught the club off guard. It was designed to damage the club going into its transfer window, and may reduce the price it could have gotten for him had he stayed quiet. That's disrespect, and the club and its fans expected and deserved better from him.
Read
| Comments »