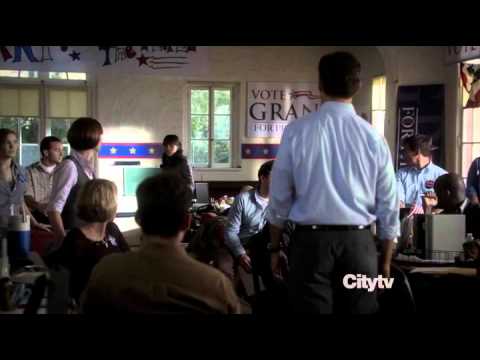 Editor's Note: See the first three parts in Susan L.M. Goldberg's series exploring ABC's Scandal through the lens of Biblical feminism: "What's Evil Got to Do with It?," "Women and the Scandal of Doing It All Alone," and "The Key to a Woman's Sexual Power." Also check out an introduction to her work and collection of 194 articles and blog posts here.
The idea of Olivia Pope is one of a woman who trusts her gut instinct so implicitly that she bases her every decision on it. As a result she unwittingly justifies a range of crimes, puts her life and the lives of her employees and friends at risk, and helps terrorists escape the country. Sometimes listening to your gut just isn't good enough. Which is probably why God provides a wise alternative in Torah: the prophet.
Biblical culture believes that God speaks to human beings. Sometimes this is done in a group setting, like when the Israelites entered into a covenant with God on Mount Sinai. Other times this is done on an individual level, as when God called out Abraham, spoke to Moses through the burning bush, and when God speaks to His prophets. Given that God spoke to His priests through the long-ago destroyed Temple, Rabbinic Judaism tends to view prophets as the stuff of biblical history, despite the prophecy of Joel:
And afterward [after the restoration of Israel], I will pour out my Spirit on all people. Your sons and daughters will prophesy, your old men will dream dreams, your young men will see visions. Even on my servants, both men and women, I will pour out my Spirit in those days.
The Spirit of God in prophecy, known in Rabbinic Judaism as the "bat kol," is highly regulated by Rabbinic law and culture:
In any event, the consensus in Jewish thought is that no appeal to a heavenly voice can be made to decide matters of halakhah where human reasoning on the meaning of the Torah rules is alone determinative. In non-legal matters, however, a Bat Kol is to be heeded. …In modern Jewish thought, even among the Orthodox, claims to have heard a Bat Kol would be treated with extreme suspicion and dismissed as chicanery or hallucination.
But is it really wise to always trust your gut?