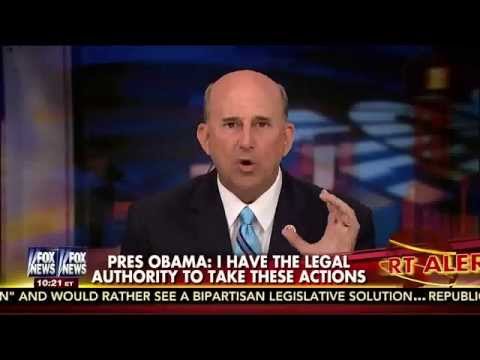 Texas Rep. Louie Gohmert joined Sean Hannity on Thursday to discuss President Obama's speech announcing his executive action on immigration. Rep. Gohmert took issue with Obama's use of a verse from Exodus to defend his actions:
"Scripture tells us that we shall not oppress a stranger, for we know the heart of a stranger – we were strangers once, too," Obama read in his prime time speech, quoting Exodus 22:21.
Gohmert said that people here illegally are not legally allowed to work. He said the president is flaunting the law, which is an offense to the Constitution and to African Americans and Hispanic Americans who have an enormously high unemployment rate. Gohmert said Obama is "going to leave five million people out in the cold" when their jobs are taken by illegal aliens who now have the ability to work here.
Gohmert then pulled out his own well-worn Bible. "But I also want to point out he quoted Exodus 22:1 here. But if you just go over to the next column," Gohmert pointed to a page heavily highlighted in in yellow, "maybe he hasn't seen these verses, Sean."
You must not spread a false report. Do not join the wicked to be a malicious witness. You must not follow a crowd in wrongdoing. Do not testify in a lawsuit or go along with the crowd to pervert justice. Do not show favoritism to a poor person in his lawsuit. (Exodus 23:1-3)
"This man is showing favoritism and he is lying about Congress," Gohmert said. "And I've seen this in another politician that I went up against who would call you everything in the book and would say, 'Now we're going to be gentlemen. We're not going to talk bad about each other.' Try to keep you from defending yourself. But we're going to defend ourselves," he said.
Now, obviously Gohmert engaged in the same kind of cherry-picking that Obama did when he cited a verse that he liked from that same passage of Exodus. I suspect that Gohmert was trying to point out the absurdity of taking one verse out of context (though I wish he had taken a few seconds to explain that).