Get PJ Media on your Apple
Follow
Doesn't it feel like we are living this Monty Python sketch? The Sensible Party has lost to the Silly Party. The normally sensible country has "gone completely nuts." Or, what's probably more true,  the Slightly Silly Party has lost to the Silly Party. What we need is a real Sensible Party.
Read
| 5 Comments »
Monty Python saved my life.
I was ten years old in 1974, when the Buffalo PBS station across the lake began airing the iconoclastic BBC comedy series every Friday night.
Being stuck in a cheap, dinky apartment that overlooked a burned-out church, with my bullying alcoholic stepfather and a meek, "see no evil" mother, surrounded at school by more extroverted, rough-and-tumble classmates — and very likely, without knowing it, clinically depressed — that half hour once a week sitting two feet from the TV was one of the only things I felt I had to look forward to.
Maybe ever, I thought at the time.
Ironically, my crappy stepfather was the one who turned me on to the show.
The first night, he "made" me watch it, the same way he was always trying to "make" me get a suntan or take up horseback riding or keep all the closet and cupboard doors in the house either open or closed depending on his inscrutable whim of the week.
My pouty resentment faded fast. For whatever reason — the cool accents, the breathless pace, the tame "naughtiness," the "question authority" iconoclasm, the ineffable cuteness of Michael Palin — I got hooked on Monty Python's Flying Circus.
In high school, I finally met a couple of girls who shared my passion, and we became those insufferable sorts who communicate almost entirely in Python (and SCTV) catchphrases.
I bought all the Python's albums and books by and about them, and repeatedly signed out hard to find titles from the library, like the one detailing their lawsuits and censorship battles.
(Which I suppose helps explain my enthusiasm for trouble-making and my relative indifference to being sued and otherwise denounced and condemned.)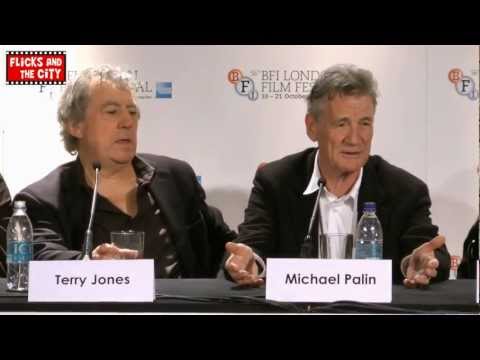 Read
| Comments »
Cracked.Com today released a new gallery of satirical images imagining "If the Real World Played by Disney Cartoon Rules."
With the general election season now officially underway this one jumped out, recalling more traditional, less complicated systems of leadership selection:
Of course, the obligatory Monty Python reference, necessary for all discussions of Excalibur-based elections:
DENNIS: Listen — strange women lying in ponds distributing swords is no basis for a system of government. Supreme executive power derives from a mandate from the masses, not from some farcical aquatic ceremony.

ARTHUR: Be quiet!

DENNIS: Well you can't expect to wield supreme executive power just 'cause some watery tart threw a sword at you!
(Amusing fact of the day: the entire script of Monty Python and the Holy Grail is available at Sacred-Texts.com.)
BTW, a related point that I'll elaborate on in greater length when I start compiling lists of Disney movies: Unfortunately, Sword in the Stone is one of the weakest films in the Disney canon. Any time Disney movies chose to string together a series of stand-alone episodes instead of developing a full-length narrative a weaker film emerged. But perhaps I'm wrong and should give the movie another look. Any Sword in the Stone defenders out there?
Read
| Comments »