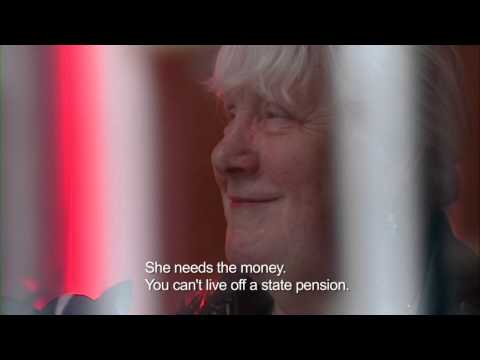 A story about two old Jewish ladies is making the rounds in the Jewish press, but not for the reasons you may think. Sure, they're bubbes. They're children of a Holocaust survivor to boot. But the real reason they're attracting so much attention is that they happen to be retired professional whores.
Dutch twins Louise and Martine Fokkens (probably not their real last name, since "Fokken" is a Dutch term for "old whore") have become international celebrities since the 2011 release of their biographical documentary Meet the Fokkens. Women's magazines like Cosmo picked up on their story shortly after the film's release, publishing quick little details like:
Louise and Martine (mothers of four and three respectively) became prostitutes before the age of 20 in order to escape violent relationships.
It's an interpretation that, at best, qualifies as a half-truth. Louise was forced into the sex trade by an abusive husband. Martine, however, became a prostitute out of spite:
Martine followed her sister into the trade, working first as a cleaning lady at brothels before she began turning tricks herself. "I was angry at how everybody around us shunned Louise," Martine said. "I did it out of spite, really."

Both women eventually divorced their husbands, whom they now describe as "a couple of pimps." But they continued working in the district "because that had become our lives," Louise said.

"Our life in the business became a source of pride, a sport of sorts," Louise added.

In retrospect, both women say they regret becoming prostitutes.
Reading their story, one can't help but wonder if mainstream feminist advocates for slut walks and "Yes Means Yes" legislation would condemn the pair for regretting the life they chose. After all, their body, their choice, right? They took control of their bad marriages, divorced the husbands they referred to as "pimps" and chose, fully of their own volition, to remain in the sex trade after their exes were fully out of the picture. Martine and Louise, it would seem, are the originators of the Slut Walk.