Read
|
Two young pitchers with nearly unlimited talent are facing the prospect of their seasons ending prematurely because their teams don't want to take a chance of injury to their arms.
Chris Sale of the Chicago White Sox and Stephen Strasburg of the Washington Nationals are so valuable to the future of their respective franchises that ownership for the Sox and Nats are seriously considering severely limiting the number of innings each will pitch this year. With both youngsters on pace to pitch more than 200 innings — a feat neither has come close to in their amateur or pro careers — the concern over whether the wear and tear of throwing a ball close to 100 MPH, 100-120 times a game over 25-30 starts will cause permanent injury to the shoulder/elbow/wrist has forced the front offices of both teams to consider radical options.
Those arms are worth at least a combined half a billion dollars when one considers that Sale, at 23, and Strasburg, at 24, have a good 15 years each of productive work ahead of them — barring major injury. It is not unreasonable to imagine at least two $100 million plus contracts for each during that time. Both players will be free agents in 2017.
The dilemma facing the White Sox and Nationals is historical in nature; pitchers, no matter how good or how durable, are frequently hurt. There are very few major league hurlers who have gone through a career avoiding major injury. Trips to the disabled list are common, as is surgery. The tremendous strain placed on a pitcher's shoulder by the unnatural motion of throwing the ball overhand threatens the delicate and complex construction of the joint. Rotator cuffs, labrums, muscle tears, and severe inflammation can make it impossible for a pitcher to work effectively and result in long stints on the disabled list or reconstructive surgery.
To avoid that, the Washington Nationals are seriously considering ending Stephen Strasburg's season after only about 170 innings:
When we signed Stephen I made a promise to him and to his parents that I would take care of him and that's what we are going to do," Rizzo said. "I told them we would always do what's best for him. This is a kid who has never pitched more than 123 innings in a year.

We are looking at not only competing for the playoffs this season, but also in '13, '14, '15 and beyond. Stephen is a big part of those plans and I will not do anything that could potentially harm him down the road.

As for those thinking Strasburg could be given a few weeks or a month off, then return, Rizzo says don't count on that happening.

"When it happens, Stephen will not pitch again until spring training (in 2013)," he said. "We tried something similar with Zimmermann last year and he just could not get going again. We won't make the same mistake.
Last year, the Nats shut down their other prized young pitcher, Jordan Zimmermann, but at the time, they were out of the playoff hunt. This year, the Nationals are in first place with a legitimate shot at the playoffs. It would be unheard of if the team were to sit Strasburg in September when the stretch run for the playoffs is underway — or have him on the bench if the team makes the postseason.
Read
|
There were many questions about the Total Recall remake that fans were anxious to have answered.
1. Will Colin Farrell speak with an Austrian accent?
2. Kate Beckinsale vs. Sharon Stone: Who would you rather wake up next to?
3. Will the three-breasted prostitute from the original version make an appearance in the remake?
Thankfully, Farrell decided against using an Austrian accent. As for question #2, are you nuts? Does it really matter?
And yes, the reboot of the iconic 1990 actioneer will feature perhaps the most interesting character from the original; a mutant with three breasts who comes on to Arnold Schwarzenegger at a sleazy bar on Mars. At the recently completed Comic-Con in San Diego, actress Kaitlyn Leeb caused a sensation when she walked around the convention sporting her barely concealed triple mammaries.
"You're gonna wish you had three hands," Leeb's character purrs to Colin Farrell's Quaid/Hauser in the Total Recall trailer as she opens her shirt. The same character (played by Lycia Naff) caused a sensation in the 1990 Arnold Schwarzenegger film, but thanks to a Comic Con appearance and the internet, Leeb has gone global.

Leeb is back home in Toronto after a stint in Calgary where she's working on season six of CBC's family drama Heartland, playing veterinary assistant Cassandra.

She made an appearance at Comic Con in San Diego with Total Recall castmates Farrell, Kate Beckinsale and Jessica Biel last weekend, stealing their thunder with a skimpy costume that revealed the realistic-looking prosthetic trio.

"Total Three-Call," trumpeted London tabloid the Sun, while photos from the event flooded the web and were published around the world.

"It's a tough industry and I've worked very hard for it," said Leeb, who was also an amateur figure skater before starting to work as an actress. "It feels amazing that you're recognized. It's surreal, the past couple of days. It's all new and exciting."

But while "it's cool to be in this situation," Leeb stresses she can't take all the credit. "All three of them are not mine," she said.
I predict that "You're gonna wish you had three hands" will become as famous a film quote as Roy Schieder's warning to Quint after the shark nearly took his hand off in Jaws, "You're gonna need a bigger boat."
Director Len Wiseman has an impressive track record, having directed Beckinsale in the first two Underworld flicks (he produced the final two installments), while also helming the fourth film in the Die Hard franchise, Live Free and Die Hard. All were blockbusters and there's no reason to believe that TR will be any different.
Colin Farrell might not have Arnold's muscles, but he appears athletic enough to carry off the role of Douglas Quade. Both Beckinsale, who plays Quade's wife Lori, and Jessica Biel, who plays the sultry resistance leader Melina, are the action heroines of their generation — strong, beautiful women who don't mind getting their hands dirty. The last trailer for the film reveals a much different landscape than the sterile atmosphere in the original:
The biggest problem the film will have is common to all remakes; everyone knows the ending. The big surprises in the original won't be a surprise to those who have seen the 1990 version, but because of the near cult status of the Schwarzenegger version, fans will no doubt accept that fact and enjoy the ride regardless.
As summer escapism, it doesn't appear to get much better.
Total Recall opens nationwide on August 3.
Read
|
It was extraordinarily painful to watch. Adam Scott, the 13th ranked player in the world, had a 4 shot lead at the Open Championship being played at Royal Lytham and St. Annes with 4 holes to play. His closest pursuer was Ernie Els who last won a major tournament a decade ago.
In a matter of half an hour, Scott had bogied 4 straight holes while Els, who birdied the 18th to finish the day at 7 under par for the tournament, could only marvel at his good fortune — while feeling for Scott and his historic collapse.
"I'm a little numb at the moment," said Els, who was on the practice green behind the clubhouse when he won. "First of all, I feel for Adam Scott. He's a great friend of mine. Obviously, we both wanted to win very badly. But you know, that's the nature of the beast. That's why we're out here. You win, you lose.

"It was my time for some reason."

The wind finally arrived off the Irish Sea and ushered in pure chaos — a mental blunder by Tiger Woods that led to triple bogey on the sixth hole, a lost ball by Brandt Snedeker that took him out of contention and a topped shot that made former U.S. Open champion Graeme McDowell look like an amateur.

Nothing was more stunning that what happened to Scott.

He failed to get up-and-down from a bunker on the 15th. With a wedge in his hand in the 16th fairway, he went 30 feet long and missed a 3-foot par putt. From the fairway on the 17th, he pulled his approach into thick grass left of the green. And on the final hole, he hit 3-wood near the face of a pot bunker.

Scott still had a chance to force extra holes with a strong shot into 7 feet on the 18th for par. The putt stayed left the entire way. His chin buckled, and it looked as if he might start crying on the green. He composed himself and mouthed one word: "Wow."
"Wow," indeed. Scott is one of those players that golf pundits have dubbed "Best Player Never to Win a Major." There is no doubting the young man's talent or work ethic. But when a young golfer who has never won a major tournament is in the lead during the final round, and makes that last turn on the 9th hole toward glory and immortality, the gut tightens, the muscles twitch, and it becomes difficult to breathe. Golf, a game that demands control and patience, can become a nightmare when you lose both.
Scott lived that nightmare, and will probably continue to do so for a very long time.
For Ernie Els, most observers believed that at age 42, his best golf was behind him. Injury and inconsistency had haunted his game the last 5 years, but the man they call "The Big Easy" because of his tall frame and graceful, effortless swing, proved many doubters wrong. He played a masterful final round, shooting a 2 under par 68 when most of the rest of the field struggled. His course management was superb, taking what Royal Latham was giving while his solid putting got him out of trouble several times.
In 1999, Frenchman Jean Van de Velde went into the final hole of The Open with a 3 shot lead. He scored a triple bogey 7 which forced a playoff that he eventually lost. "Maybe it was asking too much for me," Van de Velde said.
Scott won't admit it, but the same could be said of him.
Read
|
When Chicago White Sox star shortstop Alexei Ramirez defected from Cuba in 2007, he knew he would be unable to visit his parents due to US travel restrictions and the probability that he would be unable to leave once he stepped foot on Cuban soil again.
But just in time for the 4th of July, Ramirez celebrated Independence Day by welcoming his mother and father to Chicago who left Cuba 10 days ago for the states:
Alexei Ramirez returned from the White Sox seven-game road trip Sunday night and sat in the driveway leading up to his house for close to 30 minutes.

The White Sox shortstop had to be tired after playing in New York's sweltering weekend heat, but this particular pause had nothing to do with exhaustion. Ramirez was about to be reunited with his parents, Armando and Edith, who came from Cuba to Chicago while Ramirez was out of town, and he simply was trying to compose himself.

"I was so nervous, and there were so many emotions running through me," Ramirez told MLB.com Wednesday, through translator and White Sox manager of cultural development Jackson Miranda. "It took me a while to calm myself until I saw them.

"When I saw them, there was just a lot of crying and a lot of hugging. It was a lot of love. It was great."

Upon being asked how his parents made their way from Cuba, Ramirez chose not to go into specific details.

"I'm excited to have them here," said Ramirez, whose parents will live in Chicago with his family during the season and then in Florida with them during the offseason. "I just thank God. It's a great dream to have come true."

That dream moved to another level on Tuesday, when Ramirez's parents saw him play live for the first time with the White Sox. On Wednesday, Armando threw a ceremonial first pitch to his son before the start of the contest against the Rangers.

Ramirez said that his parents already have taken to Chicago. After not seeing them since 2007, when he came to the United States to start his Major League career in the '08 season, Ramirez can't wait to make up for their lost time together starting with this special Independence Day.

"You can't make back five years, not being there," Ramirez said. "But I treasure that every day from now on I'll be able to be with them."
Circumstances surrounding the elder Ramirez's arrival in the US are unclear, but it is not unusual for the State Department to work through channels to reunite families of Cuban nationals in the United States.
A star for the Cuban national team prior to his defection, Ramirez put on a show for his mom and dad who attended the White Sox game against the Texas Rangers on Tuesday night. It was the first time they had seen their son play since his defection 5 years ago. In a 19-2 blow-out win for the Sox, Ramirez had 3 hits in 5 at bats and batted in 2 runs. Since his parents arrived in the US, Ramirez is hitting .387.
Then, on Wednesday, Alexei got another thrill; his father Armando threw out the ceremonial first pitch before the game with the Rangers with his son behind the plate. After catching the throw, Alexie trotted out to the mound and embraced his father.
Ramirez's defection was not as dramatic as some Cubans who have risked much to play in the states. Escaping the watchful eyes of the Cuban secret police who accompany the national team when they play in international tournaments is not easy. But as more and more players find ways off Castro's island prison, the Cuban government may be softening its position on their players signing with Major League teams and might eventually give in to the inevitable.
For now, though, Ramirez is one of the lucky ones. And reuniting with his parents probably makes his dream complete.
Read
|
So, one NFL team got caught paying its players to inflict injury on key players on the opposing side. Be still my palpitating heart. You mean to tell me that pro football is a nasty, violent sport played for keeps and with no holds barred and where teams will do anything — up to and including trying to injure an opposing player — to win? Perish the thought.
The hypocrisy of the league, the teams, the fans, and especially the sanctimonious twits who style themselves "sportswriters" is incredible. The teams pay players to knock the snot out of the other fellow — the harder the hitter, the more dollars in his contract. The fans pay big bucks to watch them do it and cheer wildly at the mayhem. The league markets the game with not so subtle hints at the ferocity of its players. And sportswriters run out of adjectives describing hits on opposing players that, if delivered outside the lines of the field, would constitute probable cause for assault and battery.
The New Orleans Saints — specifically, defensive coordinator Gregg Williams and 22 players — pooled their money to pay bounties for knocking opposing players out of the game. Williams, hired as defensive coordinator for the St. Louis Rams this past offseason, has been suspended by the league "indefinitely." Head coach Sean Payton, who apparently tried to cover up the activity, got a one-year suspension. The team was also fined and lost a couple of draft picks.
The league took this action not so much because they are concerned about "sportsmanship" or "fair play" but because paying bounties is against the rules. There is a perfectly legal and far more elegant way for teams to accomplish the exact same thing the Saints managed to do: Pay massive contracts to players with a reputation for pulverizing opponents. Some of the highest paid players in the game are also some of its hardest hitters. Hitting an opponent like a ton of bricks is likely to cause some kind of injury whether it slows the player down or puts him on the sideline for a couple of games. Bone, sinew, muscle, tendons, cartilage — the human body, no matter how well conditioned, did not evolve over the last 2 million years to be crunched by a 260 pound linebacker who runs a 4.4 40 yard dash. The collisions rattle bones, and even brains, as concussions are at an all time high in the NFL.
And there is a far more effective way to police this kind of thing: let the players and opposing teams deal with it in their own way.
Warren Sapp, former all-pro defensive lineman:
"We don't keep many secrets in the NFL, if you knocking a dude out, you getting paid — that's going to get around," Sapp said on CBS This Morning. "Once that gets out, the league's going to come down on you even more then. Teams are going to start coming after your guys."
There you have it: mutually assured destruction. You take out our guy, we go after two of yours. It worked in baseball for 100 years until the league began to butt its nose into the nuances of the game. If a pitcher threw at the head of an opposing player, he had best be ready to duck when it was his turn to bat. Or sometimes the payback would come in the form of a bean ball thrown at the other team's best player. A balance of power was maintained in this imperfect manner, and it protected players and pitchers as well.
Read
|
For those of us who are fans — and always will be fans — of the marvelous Edgar Rice Burroughs series John Carter of Mars, the news that the film version will lose somewhere in the neighborhood of $200 million is depressing. The BBC critic Mark Kermode summed up the movie's major problem:
The storytelling is incomprehensible, the characterization is ludicrous, the story is two and a quarter hours long and it's a boring, boring, boring two and a quarter hours long.
The film cost a staggering $250 million to make and another $100 million to promote.  A Disney spokesman confirmed to the Daily Mail the bad news, saying, "In light of the theatrical performance of John Carter, we expect the film to generate an operating loss of approximately $200 million."
What went wrong? One of the most beloved sci-fi series of all time is set to become the biggest financial flop in Hollywood history.
Some critics point to the director and producers as being in over their heads. That's one of those criticisms that is impossible to prove, but sounds like the critic knows something about making movies. In fact, the director, Andrew Stanton, was no stranger to blockbuster projects, and treated the source material with respect — even reverence.
But I agree with this notion from Rick Liebling,the Creative Culturalist at Y&R New York:
Indiana Jones on Mars? Sequels and theme park attractions? That's why movies like this (or just about any other "blockbuster") suck. They are viewed as franchise vehicles or cross-promotional, money-spinning opportunities. I'm not opposed to those things by the way, but when they are the raison d'etre, well all you're going to get is a steaming turd.
Beyond the Hollywoodisms and other inside-industry explanations, there is the cultural chasm between the world in which John Carter was originally created by Burroughs and the less literate, less imaginative, more realistic world into which the film was released.
Chris Queen did an excellent job of fleshing out the history and background of the John Carter novels for PJ Media prior to the film's release. In 1911 when the first story appeared in in the pulp magazine The All Story, the Civil War had been over less than 50 years. Almost everyone knew a veteran from that war, or saw them during parades and other patriotic events. The war was still alive for kids and young adults at that time, making the character John Carter live in ways that we can't even imagine.
While Burroughs' time was more literate, it was the imagination that forged a connection to the stories and characters and created such a powerful hold on our affections. In an age before film, before TV, before radio, there was only the reader, the written word, and however we imagined the world being created by the author. Burroughs' prose could be turgid at times — to our ears anyway –  but the compelling way in which he described his world of Barsoom far surpassed any attempts we might make today to translate the author's imagined adventures to the screen. There are simply no cultural touchstones that connect the world of Burroughs with our world today. A young boy living in pre-World War I America imagined Barsoom far differently that I did in the 1960s. And it is likely that most kids today hadn't even read the books, waiting instead for the video game.
Read
|
What would the liberal intelligentsia say about David Duke being given an anchor job on Fox? Or Michael Savage? Or Alex Jones?
Already the proud purveyors of loony-toons leftism by featuring the unbalanced rants of Ed Schultz and Rachel Maddow, MSNBC has jumped into the deep end of demented derangement by hiring the race baiting, self promoting Reverend Al Sharpton for its 6:00 PM anchor slot.
After giving a nearly six-month tryout for the Internet talk show host Cenk Uygur, the cable news channel MSNBC is preparing to instead hand its 6 p.m. time slot to the Rev. Al Sharpton.

Mr. Sharpton's imminent hiring, which was acknowledged by three people at the channel on condition of anonymity because the contract had not been signed, is significant in part because MSNBC and other news channels have been criticized for a paucity of minority hosts in prominent time slots. Mr. Sharpton, who is black and is a well-known civil rights activist and radio host, has been guest hosting in the 6 p.m. time slot for the last three weeks.

There had been uncertainty about the 6 p.m. slot ever since the channel's marquee anchor, Keith Olbermann, departed in January, prompting Ed Schultz to be moved to 10 p.m. from 6. Suddenly Mr. Uygur, who had been made a paid contributor to MSNBC months earlier, was handed 6 p.m., a big coup given that he had earlier campaigned to have his progressive Web show "The Young Turks" picked up by MSNBC.

He earned solid but not stand-out ratings; in late June the channel's president, Phil Griffin, decided to try out Mr. Sharpton, and offered Mr. Uygur a new contract that included a weekend show, but not a higher-profile weekday show.
By any definition, Al Sharpton is an extremist. He has proven himself an inveterate race baiter, a nauseating anti-Semite, a convicted libeler, a crook, and a class warfare demagogue of the first order.
I know that MSNBC was looking to hire loud, opinionated, leftists who will deliver spittle-flecked rants against the Republicans and the right, but Jeez…
Read
|
The much anticipated trailer for the Disney treatment of the classic Edgar Rice Burroughs sci-fi adventure series John Carter of Mars was released yesterday.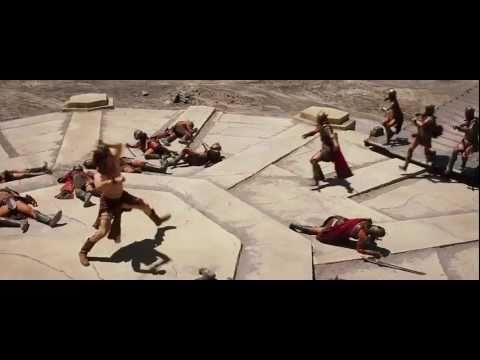 How cool is that? Love those Barsoomian ships. But after drooling over Frank Franzetta's voluptuous renderings of "the incomparable" Dejah Thoris on book covers for years, the shock of seeing her with a top on will take some getting used to.
Fans of the last major series by Burroughs not butchered by Hollywood are holding their breath that for once, Tinsel Town will get it right and capture the vision of one of the most imaginative writers of the 20th century.
So far, there are signs that cause both trepidation and hope. Most worrisome is dropping "of Mars" from the original title. Now it is simply John Carter set for release on March 9, 2012. Disney – marketing geniuses? Maybe they know something the rest of us don't.
They are also being coy about the look of some of the fantastical Martian beasts – especially the humanoid Tharks. John Carter's experiences with the 15 foot tall green skinned, 4 armed, be-tusked "hordes" is a central part of the story. Also wondering about Carter's Calot (dog) Woola who stands as tall as a Shetland pony with 10 legs and the head of a frog.
What about Carter's superior strength and agility, bulging muscles and giant "thews?" Carter could leap 30 feat at a time in the weaker Martian gravity, which gave him an enormous advantage over any adversary. It's the reason he's dominant on the planet so you wonder if  they can remain true to that part of Carter's personae.
And they better not screw up the thoats. (great Wiki on Barsoom here).
On the good side, Andrew Stanton (Wall-E and Finding Nemo) is helming the project which is already into post-production. Stanton, who also penned the script, swears that he has made a "true Martian movie." Famous last words. And judging from the trailer, there doesn't appear to be anything cheesy about the backdrops — a fault that ruined The Martian Chronicles.
The stars are a mixed lot. I'm dubious of Willem Dafoe playing Carter's best friend, the Thark Tars Tarkas. But Lynn Collins (X-Men Origins: Wolverine) as Dejah Thoris seems fine. Taylor Kitsch (Friday Night Lights) as John Carter is going to be hit or miss. I think he's too young (Carter was a Civil War hero) but he looks great in the trailer – suitably heroic. Hard to think of who might have played the role today. Contemporary action heroes just wouldn't fill the bill. How about Robert Taylor or Victor Mature? Errol Flynn might have been OK too.
I apologize if my cynicism is showing through but so many films have disappointed upon being transferred from literature to celluloid that I am fully expecting disaster. I think the best those of us who are fans of the series can hope for is that they stick to the story and not overload the film with a lot of syrupy exposition and non-essential romance.
IMDB page here.
Read
|
[Some Spoilers Below]
There's so little good sci-fi on TV anymore (the "SyFy" channel lost me at the 10th anaconda movie they produced) that when a decent series comes along, you want to get up out of your Enterprise captain's chair and cheer them on.
TNT's Falling Skies has a heavyweight production team, a monster budget, and just the right mix of terror and wonder that all good sci-fi shows should have. It's an ancient story line but why reinvent the wheel if it isn't creaking?
The series begins in medias res with the aliens well on their way to wiping humans off the face of the earth. The beasts are suitably icky and, well, beastly — especially since they capture children as slave laborers, controlling them by putting an icky wormlike critter that attaches itself to the backs of the kids and makes them into automatons.
As you might expect, there is a resistance — poorly equipped and hardly a real soldier among them. The main character, Tom Mason (played by Noah Wylie), is an ex-military history professor whose knowledge of war doesn't impress hard-bitten Captain Weaver (Will Patton), but whose respect he is gaining as his missions get ever more dangerous. Mason has a kid in one of the alien labor brigades and most of the first three episodes revolved around his efforts to get him back.
Mason became a hero in Episode Two when he actually captured an alien (called "Skitters") alive. And herein lies the seeds of the show's possible destruction. Mason's putative love interest is Anne Glass (Moon Bloodgood). While Dr. Michael Harris (Stephen Weber) is busy trying to dissect the creature, Anne wants to study the beast. Who knows, maybe it has feelings? Actually, she has a good idea — getting to know the enemy — but the way she goes about it is a little strange. She gives the beastie water. She talks nicey-nicely to it. She asks it what it wants from us. She actually protects it from Harris who sees a lab rat, while Anne sees…what? A kindred spirit? You get the feeling that she sees the Skitter as a minority.
Meanwhile, the Skitter doesn't know what to think. Not enamored of Anne's obvious anatomical gifts, he can't ply her with nylons, perfume, and other stuff with which GI's would bribe their guards in WW II movies. So he tries the next best thing: He makes a grab for her and tries to eat her.
Anne gets away but later, Harris isn't so lucky. The Beastie grabs the doc as he is trying to prevent one of the Skitter's former slaves from releasing it and makes literal mincemeat of him.
Read
|