Get PJ Media on your Apple
One of the best parts of the holiday season has to be Christmas movies. There are hundreds of them and a few dozen classics among them. As a father of two, I'm always interested to see how popular films portray dads, so it makes sense to find the best papas in favorite Christmas flicks who can teach us all how to be better parents.
Let's focus on five who would make Father Christmas proud.
5. Clark Griswold, The Do-Whatever-It-Takes Father
National Lampoon's Christmas Vacation is the third film in a series following the hilarious Griswolds. The family patriarch is the lovable goof Clark Griswold (Chevy Chase), whose greatest desire is for his family to have the perfect Christmas. How many dads can relate to a guy with Christmas cheer who can't catch a break in trying to make the season bright? Clark's frustrations abound as he just tries to give his family a "good old-fashioned family Christmas." Clark forgets the saw when finding the perfect Christmas tree, he can't figure out how to get his million lights to light up (been there), he can't make annoying in-laws happy (won't say I've been there), and he buys a huge gift for his family and then doesn't receive his Christmas bonus to pay for it. He struggles and fails, but he keeps on fighting for that wonderful family Christmas.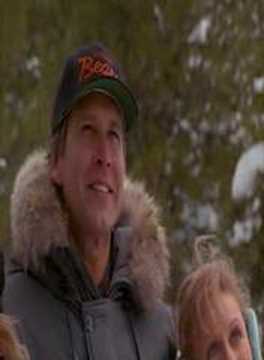 Time rightfully put Clark in their top ten list of perfect movie dads. They praised him as the ultimate example of "determination." He was always willing to go the extra mile to provide experiences his family would never forget.
Clark makes our list for doing whatever it takes to bring joy and special memories to his family for Christmas. Yes, he fails and sometimes fails miserably, but his heart is in the right place. While many men may ignore Christmas or leave it to others in the family, Clark takes the lead to bring his family the joys of the holiday. I can relate to that and so can countless other fathers. We are kids at heart and want our families to experience the wonders of the holiday season.
Read
| Comments »
For Greater Glory arrived this summer only to be forgotten among the superheroes, arrow-shooting girls, and magic Mikes. The film portrayed a true story of 1926 Mexico ruled by a government deeply hostile to the Catholic Church. The Mexican president instructed federal forces to expel priests, seize church land, and even force Christians to deny their faith or face execution. The Christians were treated as criminals and told to recant their religion by saying, "Death to Christ the King, long live the federal government."
Those who saw the film were shocked that they never learned about this unjust period of history. Many will be even more horrified to hear that a similar story is happening right now in the United States. While we have yet to see executions of the devout, we are seeing church property seizures and now the imprisonment of pastors.
In Phoenix, Arizona, this week, a pastor was thrown in jail for 60 days by the local government. His crime is hosting a weekly, private Bible study in his own home. The government argues the man has a church on his property and must therefore correct 67 zoning violations. And right at this very moment a father of six kids sits in a Phoenix prison for teaching the Bible on his own property.
Michael Salman, the imprisoned pastor, and his wife started hosting Bible studies in their home in 2002. They later moved into their current neighborhood where they were, according to the Salmans, informed by authorities that they could not host religious gatherings in their house.
They had to have a separate meeting area. The Salmans built on their own property "a 2,000-square-foot game room adjacent to their home on their 1.5-acre property." Their plan was to use this building weekly for worship and Bible study. The Phoenix authorities have declared the building a church. They originally fined Salman $180,000 for not following church building codes and have now put him in prison for noncompliance.
The Salmans have argued that their weekly gathering is not a church. It is simply a Bible study. Authorities raided the property in 2009 (yes, you read that right: they raided the Salmans' home property) and cited Michael Salman for the church building code violations. Salman claims that since their services are not promoted to the public — they are a private gathering of friends and family — it is not a church in the traditional sense.
Read
| Comments »
It's the dream of every pastor. This past week a sermon video went viral. Only for Pastor Charles L. Worley of Providence Road Baptist Church in Maiden, North Carolina, his dream may become a nightmare. And the negative reaction has the rare feature of coming from both the Right and the Left in the worlds of politics and religion.
On May 13th, Worley responded from his pulpit to President Obama's support of gay marriage. His words, which were filmed by the church, later appeared on the church's website (though later taken down). Within the week an "anti-hate" group picked up the sermon and posted it on YouTube, where it's racked up over 500,000 views.
Here is a glimpse of part of Worley's message:
I figured a way out, a way to get rid of all the lesbians and queers, but I couldn't get it past the Congress. Build a great big, large fence – 50 or a 100 miles long – and put all the lesbians in there. Fly over and drop some food. Do the same thing with the queers and the homosexuals, and have that fence electrified so they can't get out. Feed them. And you know what, in a few years, they'll die out. You know why? They can't reproduce. … I'm gonna preach the hell out of all of 'em. … God have mercy. It makes me pukin' sick.
This pastor will now forever be known for these words. And the church will be remembered for the sounds of "amen" and laughter at the pastor's words. And those who claim Christianity and support traditional marriage are in danger of being put in the same camp as these words of hate.
Read
| Comments »