In the late 1980s, P.J. O'Rourke was given the plum assignment of reviewing Ferrari's new "halo" car, the Enzo, named after the company's founder, Enzo Ferrari. O'Rourke was supposed to have the car for just one afternoon, but ended up driving from New York to Los Angeles. (The sacrifices some journalists make to get a story….) He wrote: "I've just driven the world's greatest car through the middle of the world's greatest country!  The title of his article: "Ferrari Refutes the Decline of the West."
I had a similar feeling attending car week in Monterey with the finale of the Pebble Beach Concours d' Elegance on Sunday (emceed by car fanatic Jay Leno). Dan Neil of the Wall Street Journal (the only automotive journalist to win a Pulitzer Prize) estimated that over $9 billion of auto value was on display in Monterey last week. (At Saturday's Concorso Italiano, there were over 1,000 Ferraris, Lamborghinis, Maseratis, and Alfa Romeos on display, virtually all of them six-figure cars due to their rarity.  Of course, about 100 members of the Porsche Club also crashed that event and parked on the show lawn….ahh, those German car enthusiasts….)
It's been said that Monterey should be on every car buff's "bucket list," and that is absolutely spot-on.  About the only complaint I have is that there are so many great things going on at once — from auctions to automakers' exhibits to antique racing to press tours — that it's virtually impossible to take it all in.  For example, I spent most of Friday at the spectacular Quail Lodge show and missed all but a few minutes of the Porsche reunion, which was the largest gathering of Stuttgart's finest in many years. So, I may have to return to Monterey next year! (The sacrifices some journalists make to get a story….)
Read
| 5 Comments »
Monsignor and Father Jim, thank you for your inspiring words.
From the Marines, Lt. Commander Abdo, and from the Navy, Corpsman Ruddich, Commander Bock, Senior Chief Matthews, Chief Hall, Chief Petty Officer-Select Jennifer Duarte, Chief Baney, Chief Select Dilloway, Chief Select Blake, Petty Officer Englehart and all other uniformed personnel, you honor Keith and us with your presence. We also thank Commander Gerald Olin and Master Chief Michele Curtain of the U.S.S. Independence for their kindness and assistance.
Steve, we thank you for that motorcycle escort last week. We also thank the people of Delphos for their human wall of support.
Likshio, welcome to Ohio and thank you for making the long trip from Tijuana.
I am the brother of Keith's mother Susanne and Keith's Godfather. I'm here to tell you a few stories that hopefully illustrate the true character of Chief Petty Officer John Keith Bemis.
His full name was John Keith Bemis, but since we already had so many Johns in the family – my mother's father, her brother, my father and my brother, we all called the first son of Sue and Tony Bemis "Keith."
As you may remember, Arnold Schwarzenegger was Keith's favorite action movie star. When he moved from making action films to California Governor, Arnold's favorite habit was to describe everything – a movie he did, a campaign he won or a weightlifting record he set – as "FANTASTICK."
I'm going to borrow Arnold's favorite word and apply it to Keith – he really was fantastic. He was simply a good, good kid: A loyal son, a loving brother, a dedicated sailor and my closest nephew.
The first thing Commander Olin told me after expressing his condolences was that he wanted to emphasize what a tremendous asset Keith was to the US Navy. What stood out from Commander Olin's tribute to Keith was that he was always willing to help out and that's how I remember him. He was always there for everyone.
I knew Keith from the moment he was born, but I really got to know him in the late 1990s when he would come to stay the summer in Santa Monica to train for football season. Every day we'd go over to the Santa Monica College Track to either run or lift weight or sometimes both. There were also some USC players training there and they showed Keith a few pointers including something called a "Navy Seal push-up," an 8-part exercise that combined push-ups, sit-ups, squat thrusts and chin-ups. When Keith first started training, he could only do about 15 or 20. By the end of the summer, he could do over 100.
On his last Sunday of training, we were over at the field and this handicapped kid named David was trying to kick extra points.  Keith played on Special Teams at St. John's and went over to teach him how to kick properly. David would miss the ball and say: "sorry Kevin." We'd say his name is Keith and then David would miss the ball again and say: "sorry Kyle." We'd remind David that the name was Keith. Poor David must have missed 20 kicks and called Keith 20 different names that began with K, including girls' names like Kim, Kathleen and Karen. Finally, Keith got David to kick an extra point that was good and we all went home laughing about the missed names. And of course, that fall, Delphos St. John's supplied a happy ending by winning the State Championship.
Read
| Comments »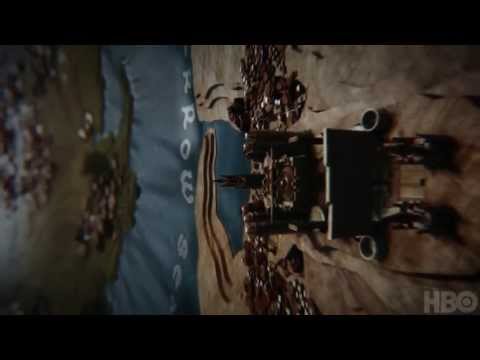 The triumphant return of HBO's blockbuster series Game of Thrones has put the cable network back in the spotlight.  As Scott Meslow wrote in The Atlantic,
No network makes bigger gambles than HBO, and Game of Thrones was a high-risk, high-reward gamble that has paid off bigger than anyone could have imagined. The grim, dense HBO fantasy series overcame its not-inconsiderable barriers to entry to become an unexpected phenomenon: In the year since Game of Thrones premiered, it's been referenced in everything from The Simpsons to Major League Baseball, earned Peter Dinklage an Emmy Award, and set HBO records for DVD sales and digital downloads.
The success of HBO over the last two decades reaches back in Hollywood history to when the studios were all-powerful, vertically integrated companies that wrote, financed, produced and released films to theaters they owned.  Known as "the Studio System," the Big Five companies (MGM, Paramount, 20th Century Fox, Warner Brothers & RKO Radio Pictures) signed actors, writers, directors and producers to long-term (usually 7 year) contracts and simply ordered them to work together on various projects. An actor or director "under contract" was basically an indentured servant with little or no choices as to the films they made. The major studios were a monopoly; the talent could either take their contracts or find another profession. Richard Zanuck, the son of legendary 20th Century Fox boss Darryl, described how the old Studio System put together films:
I remember as a kid, under my father's desk, under the glass on the top of his desk, was a big chart.  And it had everybody that was under contract there.  All the producers, and the directors, and the writers and actors and actresses.  And it was so simple.  I used to sit in on casting meetings, which would take all of about ten minutes.  Not only casting, but putting the whole picture together.
While the Studio System mistreated the talent – major stars like John Wayne and Henry Fonda made millions for the studios, but didn't share in much of the profits – great films emerged because of the organized production process.  Talented writers were assigned to sit in a room and bounce ideas and dialogue off each other until the script was just right.  Studio heads assigned actors and directors to appropriate material. For example, John Wayne made Westerns and war movies, Henry Fonda and Jimmy Stewart made earnest dramas, and Katharine Hepburn played smart career women, while Marilyn Monroe was the sex symbol, and so on. This was the "Golden Age" of Hollywood that produced such classics as Gone with Wind, Casablanca, The Maltese Falcon and the Bob Hope/Bing Crosby "Road" comedies.
Read
| Comments »