INVESTOR'S BUSINESS DAILY ON OBAMA'S IPHONE FLUB:

As President Obama fumbled with an iPhone, the blogosphere recalled he had earlier falsely bad-mouthed President Rutherford B. Hayes as a technological troglodyte. It's not his error that annoys but his arrogance.

For a man who would have Americans believe that he and his big government are smarter than anyone, it might help if the president could show some evidence of it when he lectures others.

Instead, Obama bumbled around on an iPhone at a campaign stop with no idea how to master the device, triggering a viral response on the Internet about his past pontifications on history and technology.
Indeed it did.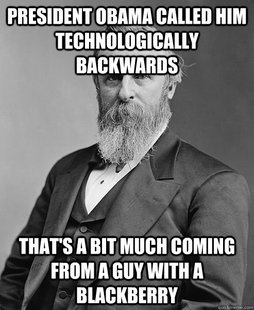 Plus this: "Hayes unleashed the free market. Obama not only has done the opposite, he hasn't even mastered today's telephone." Ouch.